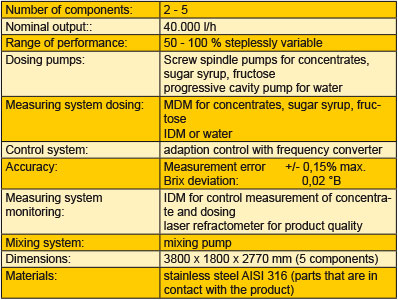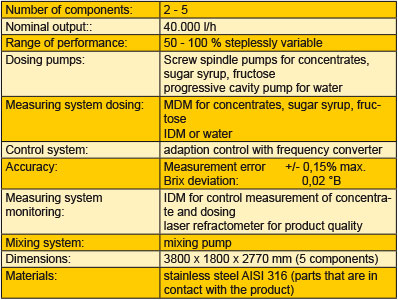 Mastermixx C is a device for continous production of ready-made syrup or ready-made beverage. It is possible to produce high amounts of product at low space requirements. During planning and installation attention was paid to provide optimal accessibility for maintainance work. The device is conceived for 4-5 components by default.
The modular construction method allows a smooth conformation of the number of components depending on customer requirements. All regulatory circuits are directly implemented using frequency controlled pumps, thereby a mutual interference of the regulatory circuits can be avoided during pressure fluctuations. Components are alotted by adaptation controllers which instantly correct even smallest deviations. This allows highest precision of dosing.
Upon entry into the device, the concentrates are identified by measurement of conductance. Thus, a mix-up of the concentrates is excluded. Brix fluctuations in the sugar syrup are recognized and automatically corrected. The concentrate dosing systems are equipped with two measurement units which reciprocally monitor each other. In this way, a very high level on production safety is warranted.
At the outlet, a mixing pump is in care of homogeneous blending. A Brix refractometer controls and monitors product quality. The device operates fully automatical. A fully programmable control unit (Siemens S7) reliably regulates all processes. A 19-inch PC is placed in the switch cabinet door. On this PC, visualization software serves to demonstrate the processes running in the device to the operator. At this point, all relevant measurement data, instruction messages and prompts are concentrated. All data are archived and production protocols are generated. A freely editable administration of recipes allows a trouble-free product change.
The device also contains several cleaning programs. In concert with an external cleaning unit (CIP), a single dosing line as well as the whole machine can be cleaned in a fully automatical fashion. After cleaning, integrated pull-in programs facilitate media entry.